Adventures in Writing my First Book (part 4 of 4)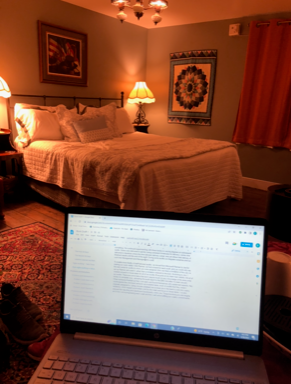 For the past two years, our summer vacation spot has been Gettysburg, PA. My son loves history. During the first year of the COVID-19 pandemic (he was in Kindergarten at that time) he watched the Gettysburg movie on repeat after finishing his schoolwork each day. Most of my work calls during that time were dramatized by the movie's theme song playing in the background. So in the summer of 2021 and again in 2022, we took a family trip to vacation in Gettysburg. We stayed in a battlefield building-turned bed-and-breakfast and spent our days exploring the battlefields. For my husband and son, both fascinated with history, this was a dream come true. Even though I don't fancy myself a history buff, I thoroughly enjoyed the trip as well. This year, my laptop accompanied me on the trip so I could work on my book during downtime in the mornings.
Normally an early-riser, I made my way into the dining room each morning before the boys stirred. Armed with a delicious cup of coffee, a beautiful view, and my laptop, I got to work putting my thoughts and experiences into words. Between the caffeine and the thrilling opportunity to help fellow auditors and their clients excel, the words flowed freely through my fingertips. Eventually, the boys would make their way downstairs to meet me for breakfast.
After breakfast, we enjoyed a history lesson and then made our way to the battlefields. In the evenings, we returned to the bed-and-breakfast, where my son dressed up as a Union soldier and played out in the yard. When he did this, I sat outside with my laptop or my blue book and continued to write while playing the role of a Union General in my son's imaginary battle. As with the other trips over that summer, I thoroughly enjoyed every minute. Like the other trips over the summer, I enjoyed quality time with my family. Even though I was spending pockets of time composing my manuscript, I found myself more present during these trips than in years past. Perhaps that was because I intentionally took pockets of time for myself to not only work on my book, but also to relax and take in the scenery surrounding me.
Reflecting on the trips my family and I took over the summer and the time I spent finding a quiet spot to work on my book in small chunks of time, I asked myself why I was doing this? I knew it was thrilling and a lifelong dream of mine to publish a book, but it goes much deeper than that. I love the auditing profession. I love the value it brings to organizations and the challenging role auditors take on because, as auditors, we help organizations excel by telling them what they need to hear, not necessarily what they want to hear.
I created this book from my experiences and from learning about others' experiences as well. I wrote it with the goal of helping other auditors and non-auditors have a better audit experience and to improve the value they both bring to their organizations through audits. It is a way to help others succeed by showing them how auditing should be, rather than how it always has been. I am so excited to get it into readers' hands!
Now that this four-part blog series on my journey of writing my first book is complete, I'll start sharing some more audit-focused content. Stay tuned!